ChefLee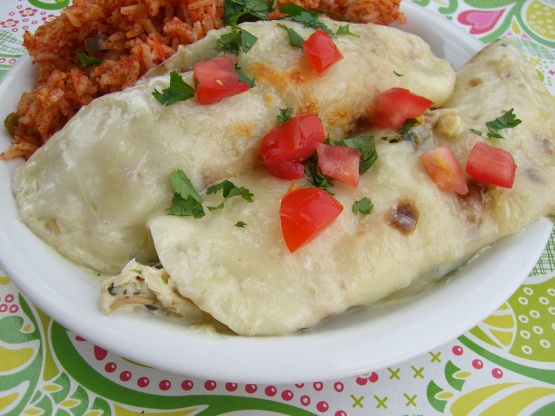 These are also delicious if you substitute the chicken with Oaxaca cheese for a vegeterian dish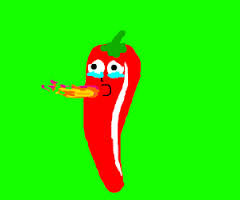 These are fantastic!!!!! This is the way it's done!!! I can get plenty of poblanos and oaxaca cheese here in Arizona but if you can't get that type cheese, monterey jack will work but it won't melt quite as fast as oaxaca does. I roast my poblanos, with oil rubbed all over them, at 425 degrees F for about 20 minutes until their skin blisters. Then, I place them in a large ziploc bag and keep it sealed up until their outer skins "sweat" off, then they are cool enough to handle and peel. This is worth every calorie that I probably just consumed, it is a really excellent enchilada dish!!!I sprinkled a little cilantro and roma tomatoes over the top and served with recipe#320698 and that was a wonderful arroz rojo to go with this dish!!! Thanks so much for the wonderful recipe!!!
2

cups heavy cream

1

large onion, thinly sliced

1

garlic clove, crushed
1⁄2 cup sweet corn

2

cups oaxaca cheese, shredded
1⁄2 lb cooked chicken breast, shredded
corn oil, as much as needed
salt and pepper
Roast, peel and cut chiles into strips.
Fry onions and garlic in a little bit of oil until tender.
Add chile strips, corn and chicken.
Season with salt and pepper, and cook for 2 minutes in medium heat.
Add 1 cup of cream, lower heat and simmer for two more minutes. Set a side.
Fry tortillas lightly in a good quantity of oil, just for 2 seconds on both sides so you can still fold them. Set aside.
Preheat oven at 400°F.
Put the chicken and poblano mixture in the center of the tortilla and roll it.
Place all of the enchiladas in a greased oven proof dish.
Smother them with 1 cup of cream and cheese.
Bake until cheese is melted and golden, and cream is bubbling.
Serve with arroz rojo (red rice).