Hanka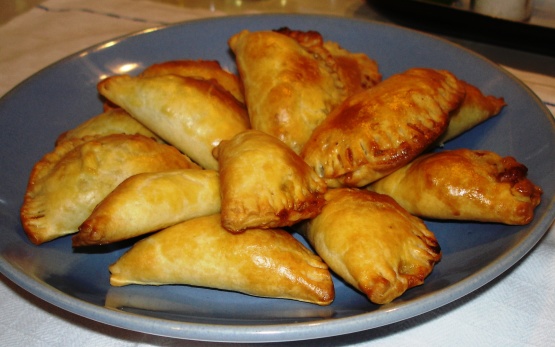 This is one of my favorite empanada dough recipes. You can fill the pastry with your choice of fruit filling or meat, whichever you prefer. I like to cook shredded pork in my crockpot and fill these pies and serve with a warm sauce and my Enchilada Soup. You can't go wrong with this recipe.

Top Review by Hanka
This is the recipe I was looking for.The dough is nice and crispy, buttery and has a great texture and flavor. I used light Philadelphia cream cheese and 1/4 tsp. salt. I had 15 4-inch small empanadas filled with sauted mixture of onion,zucchini,red bell pepper,carrot,bacon and cheese. This dough would be great for chicken pot pie or apple pie as well. Next time I will double the recipe. Thank you
DAY BEFORE:.
Cream butter and cream cheese together until smoothly blended.
Beat in the flour.
Shape dough into a smooth ball; wrap in foil or cling wrap, and refrigerate overnight or up to a week.
AT BAKING TIME:.
Remove dough from refrigerator 30 minutes before using.
Start heating oven to 375 degrees Fahrenheit.
Roll chilled dough thin.
Cut with 3 or 4 inch round cookie cutter.
Place small spoonful of filling in center of each round, moisten edges with water.
Fold round over and press edges together.
Bake on ungreased cookie sheet 15 to 20 minutes.