loof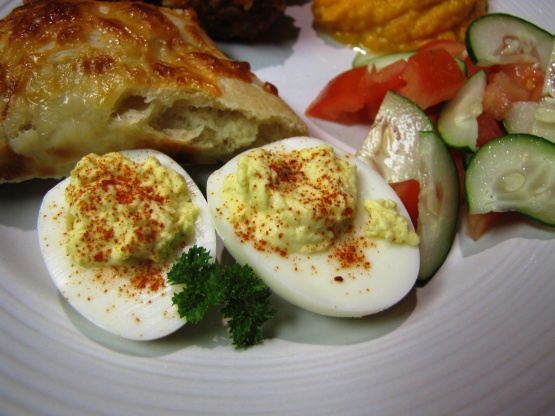 Heavy cream takes these de-viled eggs over the top! --Tasty-- and I are very happy to have found my old copy of The Pooh Cook Book again! Fresh herb only, please!
6

hard-boiled eggs, peeled and cut in half
1⁄4 teaspoon salt, to taste
1⁄4 teaspoon black pepper

3

tablespoons heavy cream or 3 tablespoons homemade mayonnaise, thinned with heavy cream
paprika (I used smoked paprika for an extra dose of oo la la)

12

leaves Italian parsley, whole leaves (or fresh basil, salad burnet, lovage, etc.)
Place the egg yolks in a bowl and using a fork, mash with the salt, pepper and heavy cream.
Divide and spoon the mixture into each egg half cavity.
Sprinkle paprika on top and garnish with fresh herb of choice, as suggested.