diner524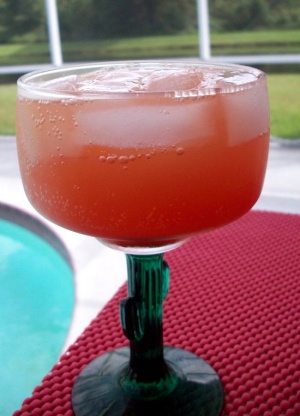 Saw Guy Fieri make this and it looked very yummy !

Yum! I also saw guy fieri make this on his show and had to instantly go add it into my recipe box. I made this awhile back and just recently again. It is a great cocktail but I think, for me, the ginger ale clashes with the flavors a bit. I think with sprite or club soda in place of the ginger ale, I would like it better. I will have to try again with that alteration. But great drink, you have got to try it!
3⁄4 ounce vodka, good quality
3⁄4 ounce Midori melon liqueur
3⁄4 ounce peach schnapps
splash orange juice
splash grenadine
Fill a shaker or pitcher with ice.
Add vodka, Midori and Peach schnapps. Shake or stir.
Pour into a glass and add OJ and grenadine.
Top off with ginger ale and serve.