Bergy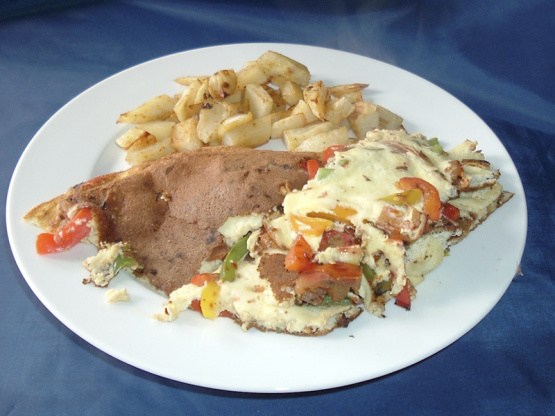 Got this recipe out of cooking light. Piperade is a dish from the Basque region of France that always includes tomatoes and bell peppers. This version with eggs is similar to a frittata. Serve this dish with roasted potatoes

I was very surprised at how well my family liked this dish. Although next time I will either use less ground red pepper or leave it out all together. Krisp69
Heat oil in a large nonstick skillet over medium-high heat.
Add bell peppers and garlic; saute 5 minutes.
Add thyme, salt, ground red pepper, and tomatoes; cover, reduce heat to medium, and cook 7 minutes or until bell peppers are tender.
Uncover, and cook 1 minute or until liquid almost evaporates.
Gently stir in eggs; cover, and cook 3 minutes or until set.
Garnish with parsley, if desired.
Cut into wedges.