Penne Piperade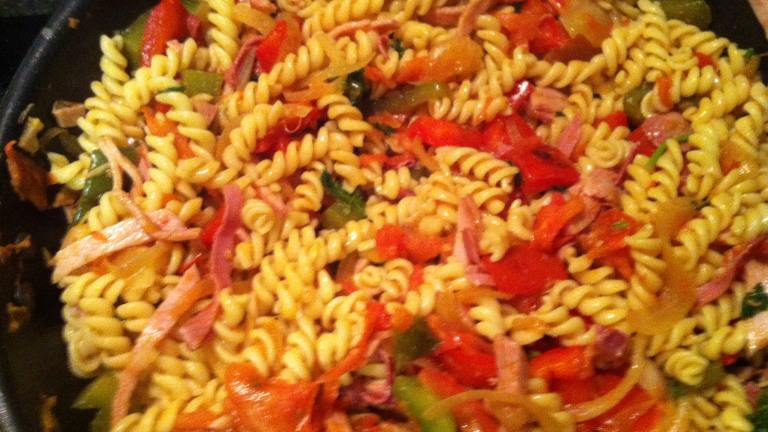 ingredients
4

cups penne

1

tablespoon extra virgin olive oil

1

green bell pepper, cored, seeded, and cut into penne-size pieces

1

red bell pepper, cored, seeded, and cut into penne-size pieces

1

yellow bell pepper, cored, seeded, and cut into penne-size pieces

1

medium onion, thinly sliced

3

cloves garlic, thinly sliced

2 -3

3 slices black forest ham (thin slices) or 3 slices Canadian ham (thin slices)

1 -2

ounce bacon (optional)

2

large tomatoes, finely chopped (with juices)

1 -3

teaspoon hot paprika

to taste salt and black pepper, freshly ground

1⁄2 cup flat leaf parsley, chopped

1

1 ounce manchego cheese (optional) or 1 ounce sheep's milk cheese (optional)
directions
Cook the penne in at least 4 quarts of rapidly boiling water until al dente, about 8 minutes.
Drain the pasta in a colander, refresh under cold water, and drain well again.
Heat the olive oil in a large saute pan, preferably nonstick.
Add the peppers, onion, garlic, and prosciut to and cook over medium heat until lightly browned, about 5 minutes.
Stir in the tomatoes, paprika, salt and pepper, and half the parsley.
Cook until the tomatoes yield their juices and the mixture is moist and saucy, about 5 minutes.
Stir in the penne and bring to a boil.
Correct the seasoning, adding salt or paprika to taste. The mixture should be highly seasoned.
Sprinkle penne with the remaining parsley.
Grate the cheese on top, if using, and serve at once.
Submit a Recipe Correction
I'm not sure if perhaps this one slipped under people's radars as the 0 cooking and prep time exclude it from searches - but it's a lovely little recipe, definitely a keeper. Tons of veggies but brightly coloured ones to make sure kids get their vitamins in an appealing way. I put in extra bacon (house full of boys!) and used spiral pasta as I had only that on hand. Gem of a recipe!