CoffeeB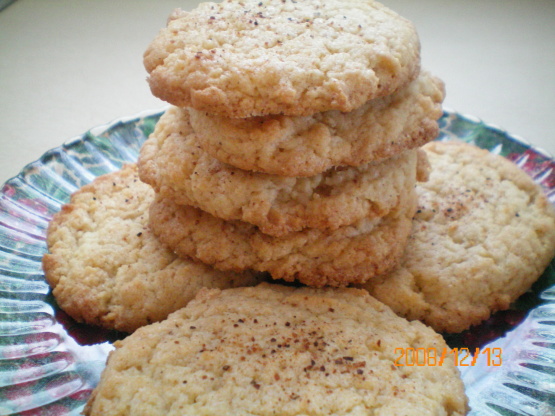 I worried a bit about these as I've never heard of an eggnog cookie. Happened across his recipe in an old cookbook. They are a very moist cookie. My family loved them!
Top Review by Dan C.
I was not sure about this recipe. The baking at 300 and 20 mins. time made me think that it didn`t seem right. I baked them at 350 for 11 mins. They came out good. I thought they were lite and full of flavor with a hint of sweetness. If your looking for flavor and just a little sweet, this the one. I tried them and my family thought they were good for something different. I`m putting this one my recipe box. Thank You Connie for posting this one.
Preheat oven to 300 degrees.
In a bowl, combine all dry ingredients together.
In a large bowl, cream together the sugar and butter until it resembles a grainy paste.
Add eggnog, vanilla and egg yolks and beat at medium speed until smooth.
Add the flour mixture and beat at low speed until blended. Do not overmix.
Drop by teaspoons onto an ungreased baking sheet, 1 inch apart. Lightly sprinkle nutmeg over the unbaked cookies.
Bake for approximately 20 minutes or until bottoms turn a light brown. Transfer from pans immediately to cool.