Easy Tres Leches Sheet Cake
WiGal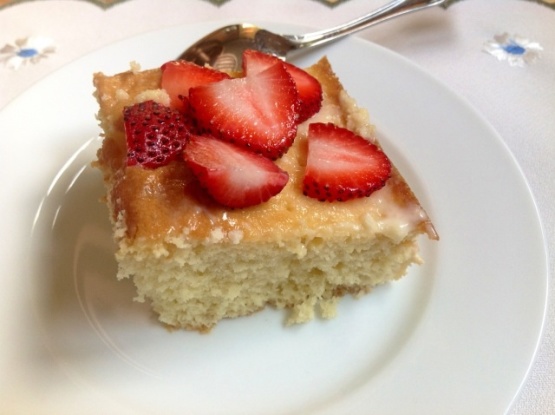 Same great flavor, without all of the work! This is a great dessert to serve after barbeque or other spicy foods, and is a popular treat here in Texas. It is far more portable than a traditional tres leches cake so bring it along to your next barbeque or fiesta. If you have never had tres leches cake, expect the cake to be very "wet," the three milk combination helps remove the burn from chiles from your mouth.

Very good...but I learned an important lesson. It is that much BETTER if you don't serve for 24 hours. I made the cake at night for work and it was really good. I had a couple pieces left over and had one the next day. It went from good to GREAT! Definitely give the milks time to work their magic. You won't regret it. I used to work at an authentic mexican restaurant. The flavor was very close, considering it's from a box. Will be making again!
510.29

g box yellow cake mix (Supermoist) or 510.29 g box white cake mix (Supermoist)

295.73

ml water

14.79

ml oil

9.85

ml vanilla

4

eggs

396.89

g can sweetened condensed milk

236.59

ml whole milk

236.59

ml heavy cream

255.14

g containerwhipped fluffy white frosting
Heat oven to 350ºF. Grease and four a 13x9 inch baking pan.
In a large bowl, combine cake mix, water, oil, vanilla, and eggs. Beat on low for 30 seconds then on medium for 2 minutes, scraping bowl occasionally. Pour into prepared pan.
Bake 33 to 38 minutes or until edges are golden brown and tooth pick inserted in the center comes out clean.
Let stand 5 minutes then poke the hot cake every 1/2 inch with a long-tined fork. Wipe the fork occasionally to reduce sticking and tearing.
In a large bowl combine milks and cream. Carefully pour the mixture evenly over the top of the cake. Cover and refrigerate about 1 hour or until all liquid is absorbed.
Frost cake as desired. Garnish with strawberry slices.