Easy Sausage, Potato, Cheese Breakfast Casserole
xio811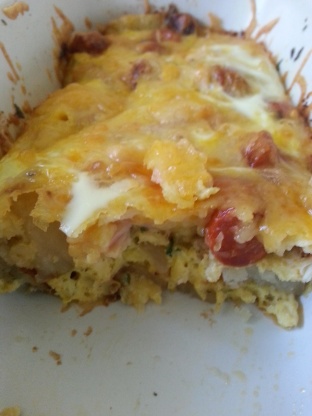 Eggs, sausage, potato, cheese all in one dish. Easy to prepare the night before and bake in the morning.
Preheat oven to 350 degrees.
Lightly grease a medium baking dish.
Cook and stir sausage in a medium skillet over medium heat until evenly browned and broken up.
Remove sausage to a separate plate.
Add the butter to the same skillet and replace over medium heat.
Add the package of diced potatoes.
Cook and stir until lightly browned and slightly crispy on the outside.
Place the potatoes in the prepared baking dish.
Sprinkle with half of the seasoning salt and pepper.
Cover with the sausage.
Sprinkle the cheese over all.
Pour the eggs over the top.
Finish with the rest of the seasoning salt and pepper.
Bake 30 minutes in the preheated oven, or until the eggs are fully cooked.
If the dish has been refrigerated and is cold, it can take up to an hour to bake.