Easy Microwave Creamy Alfredo Sauce
VickyJ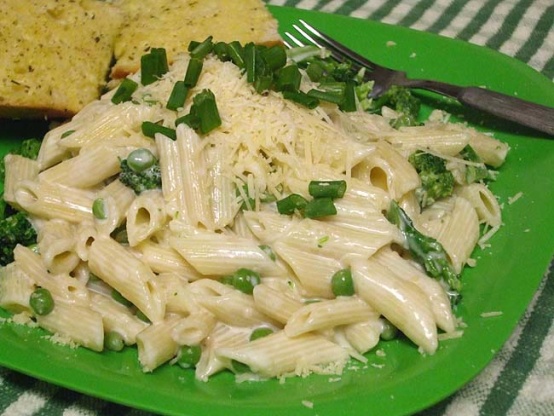 This is a rich sauce made very simply in the microwave. Dinner can be on the table in just a few minutes if using fresh pasta. I acquired this recipe many years ago from our local newspaper.

Top Review by VickyJ
Hi there! I made this sauce tonight to use for supper. It was just the two of us, so the ingredient amounts might not have been exact. The past was penne. My dinner was tossed with sauce peas, broccoli and topped with grated cheese and green onion. The only parsley I had was dried, and I wanted something fresh. My SO had chicken and peas with his alfredo pasta. Thank you for the wonderful dinner. This was made for PAC Spring 2010. :)
In a 1 quart dish, micro-cook cream and butter at high for 2-3 minutes or until very hot. Stir in parmesan cheese and pepper and toss with hot cooked pasta.
I usually top with fresh parsley to dress it up.
Variations: Mushrooms, tomatoes, broccoli, shrimp and/or chicken can all be added but must be cooked before hand.