Easy Chicken Salad Sandwich
lazyme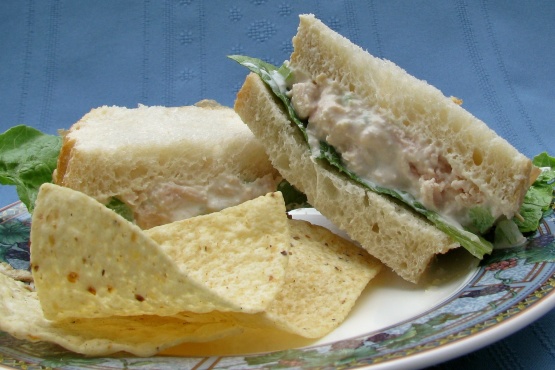 While I normally like using all fresh ingredients, sometimes it's just not feasible. I like to keep comfort foods simple and this is no exception.

Yep, this is about as close to my basic chicken salad sandwich "recipe" as you're going to get. I use leftover chicken from the previous night's meal, homemade mayo and red onion. I like the celery salt addition although I chose celery seed instead to cut down on the salt content. Served on fresh flax seed light wheat bread, mixed greens; and fresh fruit to accompany. PS> sometimes I sneak in toasted chopped almonds or roasted sunflower seeds. Good choice for a hot summer day. Thanks!
1

(9 3/4 ounce) canof white chunk chicken breasts, in water

3

tablespoons mayonnaise

2

stalks celery, chopped
1⁄2 medium vidalia onion, chopped finely
nice crusty bread

4

leaves romaine lettuce, for each sandwich

i eyeball the rest

celery salt
Drain chicken very well and empty into mixing bowl.
Add remaining ingredients and mix well with a fork shredding chicken as you do so.
Place in fridge to chill and let flavors disperse, think 30-60 minutes. Spread on your favorite bread with some romaine lettuce and enjoy!