Easy and Yummy Spiced Squash
MA HIKER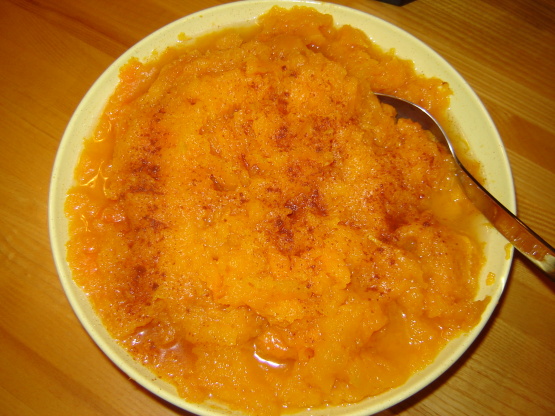 too easy and tastes great! I baked the squash this morning, mashed it and put it in the fridge until dinner when i baked it again.the cinnamon is a nice complement to the squash, which i usually eat plain.

I just love butternut squash and often roast it this same way - putting it in the oven in a roasting pan with about 2 inches of water (uncovered) and set delay start on my oven so when I walk in from work the house smells heavenly! I love the addition of a little spray butter and cinnamon - gives it a nice flavor! Reviewed for healthy choices ABC game.
1

butternut squash
no cal butter-flavored cooking spray
bake the squash, covered, with water for 1hr.
scoop and mash in pie pan.
season with cinnamon and spray butter to taste.
you can eat it now or refrigerate until ready.
then bake again for about 45 minute covered for 1/2 hour then uncover for last 10-15 minute.