Easy and Delicious Vegetarian Soup (Pasta E Fagioli)
Kiwiwife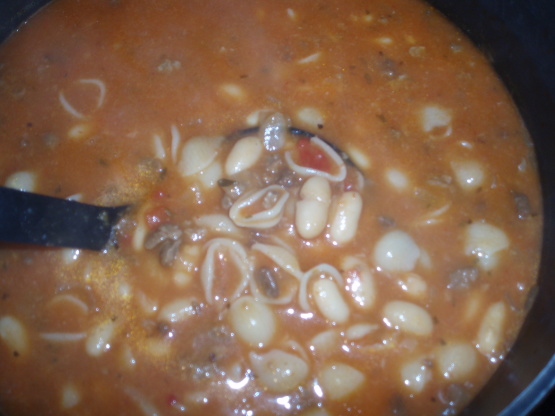 My Favorite fall/winter soup, I get a TON of requests for this, even from meat-eaters!
29.58

ml olive oil

1

small white onion, chopped

3

garlic cloves, minced

2

(1077.28 g) can cannellini beans, undrained

737.08

g jar cheese pasta sauce

680.38

g veggie crumbles, i use boca brand (equivalent to 1-1/2 lbs ground beef)

118.29-177.44

ml grated pecorino romano cheese

340.19

g ditalini, reserving liquid, cooked according to package directions or 340.19 g shell pasta, reserving liquid, cooked accoding to package directions
Saute onion in oil in large pot until soft.
Add garlic and saute few more minutes.
Add beans with their liquid.
Add jarred pasta sauce and simmer while cooking pasta.
When pasta is done, add Boca Crumbles to sauce & bean mixture then add drained pasta and cheese, reserving pasta cooking liquid.
Let sit for a half an hour and add reserved pasta cooking liquid to thin to desired consitstency.
Will get better and thicker as it sits.
Serve with more cheese for garnish.