Easter Carrots (Chocolate Covered Strawberries)
CIndytc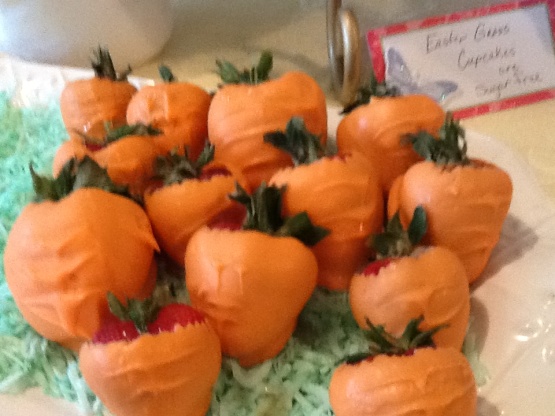 Got this recipe off Pinterest. They are so cute. Cooking time is cooling time. I used Wilton orange colored melting chocolate, but I am sure you could use white melting chocolate and color it orange.

This is a great idea!! Only problem I had was taking your advice n coloring the white chocolate. As soon as I put the food coloring in it turned from a creay meltde chocolate to a harder dough like consistancy. After researching, you can not put food coloring inwite chocolate. I managed to salvage enough for my daughters small pre-k class at school and they taste fine and are cute, but just a heads up to others, buy orange colored chocolate!
Wash and dry strawberries leaving top on.
Melt chocoate in a double broiler.
Dip strawberries holding top and cover as much as possible.
Dry on wax papaer lined cookie sheet, when almost dry, take piece.
of dental floss and run through top to look like carrot -- dry completely.