Pumpkie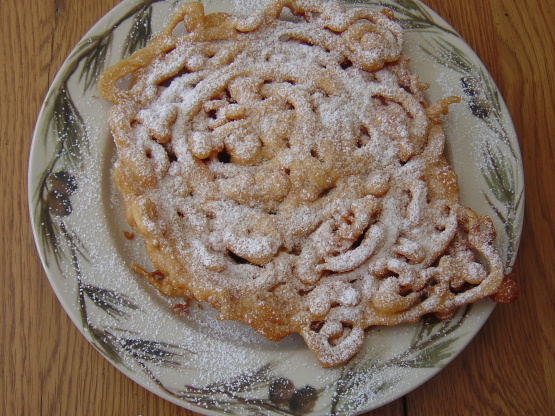 Our youth group used to make these at fund raising yard sales. I am posting this recipe for family groups and one for large groups. Just like you get at the fair!

Very easy and tasty! I did have to add considerably more milk (probably about 3/4 c) to make it pourable at all and added vanilla. They did not come out with quite the same texture as a fair funnel cake, possibly because of the extra liquid I had to add, but I am not sure how I could've made them without it.
Beat eggs, add milk and beat again.
Sift dry ingredients into a large bowl.
add egg mixture and beat until smooth.
Heat oil to 400 degrees.
Pour 1/2 cup of batter into a funnel.
let batter drizzle into hot oil starting at the center and expanding in a circular motion, criss-crossing with the last bit of batter.
brown on both sides.
drain on paper towels.
sprinkle with powdered sugar.