BarbryT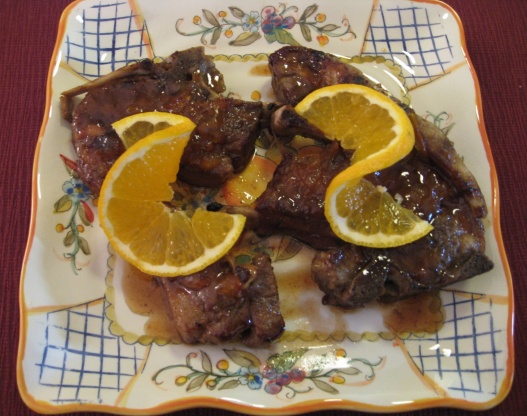 Thanks to Mrs Keiller of Dundee, who bought a load of surplus oranges and made them into marmalade, Dundee is forever associated with that fruit (and jute and journalism as well as jam). So whenever marmalade is added to a recipe (as here) it immediately becomes "Dundee". The quantities below will serve four (unless the chops are very small or the appetites are large). Serve with a twist of orange on top of the chops and with boiled potatoes and fresh vegetables.

These are out of this world. Tender, bittersweet, fantastic! I used shoulder chops so the appearance isn't as nice as I would like (I definitely would use arm, rib or loin chops for guests) but the flavor can't be beat. And they are so easy. Thanks for posting this!!
You will need a frying pan with a heavy base and a close-fitting lid.
First, brown the chops in the butter.
Sprinkle the ginger, paprika, salt and pepper over the chops and add water and vinegar.
Place a generous tablespoon of marmalade on the top of each chop.
Bring to a slow simmer and cook for 45 minutes on a very low heat. If required, add a little extra water.
Serve.