gerry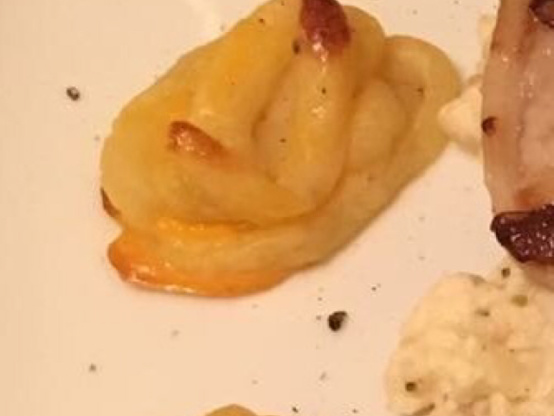 I really like this fun version of mashed potatoes. Everyone gets their own serving or you can get really creative and pipe them around your entree. I also love that you can make them one day ahead. From Betty Crocker's Meat and Potatoes.

We really loved this recipe! I forgot to reduce the servings so I have many mounds of potatoes to use again tonight but that is another plus. Followed the recipe exactly and did not have any issues. I did warm the milk a bit before adding as I think it just helps keep the starches in the potatoes so they remain smooth. I used an ice cream scoop to make the servings before baking. With the leftovers I'm going to top with some cheese and fresh crumbled bacon and reheat. Wonderful recipe! Thanks LM for sharing.
Cut potatoes into large pieces if desired.
Heat 1 inch water to boiling in Dutch oven.
Add potatoes.
Cover and heat to boiling; reduce heat.
Cook whole potatoes 30 to 35 minutes, pieces 20 to 25 minutes, or until tender; drain.
Shake pan gently over low heat to dry potatoes.
Heat oven to 425ºF.
Grease cookie sheet.
Mash potatoes until no lumps remain.
Beat in milk in small amounts.
Add 1/2 cup butter, salt and pepper.
Beat vigorously until potatoes are light and fluffy.
Add eggs; beat until blended.
Drop potato mixture by 12 spoonfuls into mounds onto cookie sheet; or place in decorating bag with star tip and form rosettes or pipe a border around meat or fish.
If cooking now, brush with melted butter and bake about 15 minutes or until light brown.
If making ahead, do not add the melted butter until ready to bake; cover and refrigerate up to 24 hours; bake 20 to 25 minutes or until light brown.