Shasha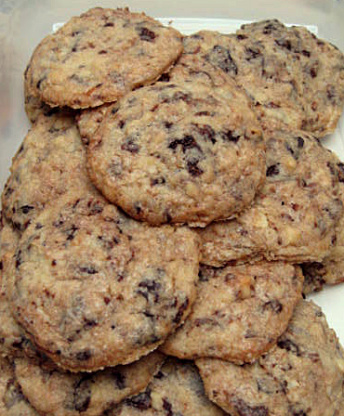 Delicious, peculiar cookies, origin unknown, but marked in one of my old recipe scrapbooks: "Very nice!" Don't use choc chips in these cookies unless you have no other way out: the reason is that the uneven chocolate bits from the slabs melt, and add a delicious taste, whereas choc chips won't melt. You will absolutely have chocolate "dust" in your processor as well as choc chunks of all sizes, but no matter, use it all. The cookies are inclined to spread ... so put the little balls well apart. They come out crunchy and very tasty -- but no-one said this was a health cookie! I've just made them, decided to leave out the brown sugar and I added a teaspoon of baking powder ... don't. They spread out and came out in flat shapes more like a Picasso nightmare than dream cookies. But the taste is still fantastic!
Oven: 180 deg C/350 deg F.
Grease baking tins, but bake only one tin at a time, in the centre of the oven.
Before starting, break up the chocolates and chop roughly in a blender. Do the same, separately, with the macadamias.
In an electric mixer, mix the butter, sugars, eggs and vanilla until light and creamy.
Turn speed to low and add flour and salt slowly. Increase mixer speed, and mix well.
Add the chopped chocolates, nuts and desiccated coconut to the mixture, and stir or mix in well -- low speed.
Roll teaspoonsful in balls, and pack on the greased tins.
Bake about 15 - 20 minutes or until edges start browning and cookies are dry on top.
Cool and pack in airtight tins.