Double Chocolate Pumpkin Cupcakes
HisPixie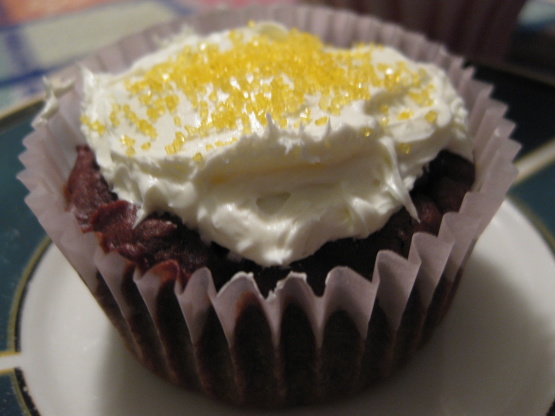 Another great pumpkin recipe! I used a cream cheese frosting with this one. I think I'll make these for my youngest child's school fall festival and put some of those cute orange pumpkin candies in the center of each cupcake.

These are very good and moist, chocolatey. They are better after they have sat for awhile. At first, I wasn't too impressed (I tried one while it was still warm). They need to be very cool. I'll definitely make they again. Made for My Three Chefs, Fall 2008.
Preheat oven to 350 degrees. Line 24 cupcake cups with paper liners.
Sift the flour, cocoa, baking powder, baking soda and salt together; set aside. In a separate bowl, stir together the yogurt, pumpkin, vinegar, and vanilla extract, set aside.
In a large mixing bowl, and using an electric mixer on medium speed, beat butter and brown sugar until light and fluffy. Beat in the eggs, one at a time. Alternately beat in the flour and pumpkin mixtures in thirds (for example, beat in 1/3 flour mixture followed by 1/3 pumpkin mixture and repeat until everything is combined). Fold in the mini chocolate chips.
Working quickly, spoon batter into cupcake cups, filling each about 3/4 full. Place cupcake pans in the center of the preheated 350 degree oven and bake approximately 25 minutes. Cupcakes are done when they spring back when lightly touched or a toothpick inserted in the center comes out clean. Cool pans on wire racks for 10 minutes then remove cupcakes from pans and let cool completely on the wire racks.