Anita J.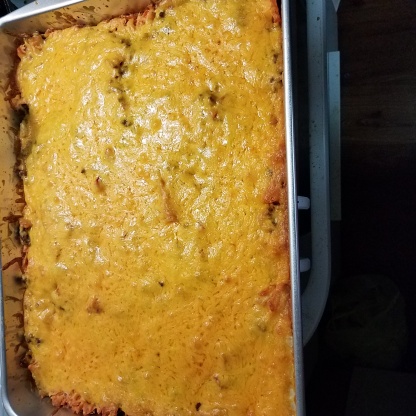 This used to be a favorite years ago when I first got married. :) Easy!
I added a can of green chiles, ranch style beans and a can of southwest style corn. Used a whole pound of cheese, 8 oz of Mexican blend and 8 oz of Triple Cheddar. Absolutely yummy! Oh! I added Cumin also to give it a southwest flavor. I didn't measure it just sprinkled and tasted until I was happy with it, lol
Preheat oven to 350 degrees.
Bring to a boil the soup, water, and tomatoes.
Cook onion with ground beef.
Place layer of slightly crushed Doritos in the bottom of a casserole.
Add a layer of ground beef, a layer of soup mixture and a layer of Doritos.
Continue until all ingredients are used.
Top with cheese.
Bake in 350 degree oven for 25-30 minutes.
Serve and enjoy.
You can also add canned beans and cooked rice to this casserole!
If you can't get Rotel tomatoes, use a can of crushed, peeled tomatoes and add 1 tsp of seeded and minced jalapeno to them (or mild green chiles).