Anita J.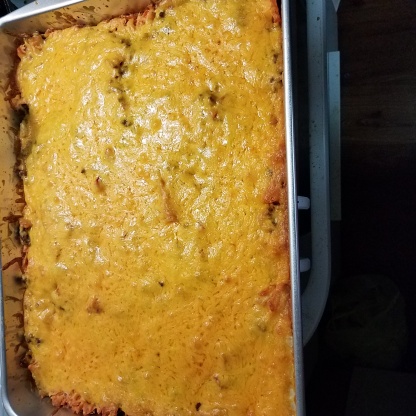 This used to be a favorite years ago when I first got married. :) Easy!

This was a nice recipe. It was pretty easy to assemble. The nacho flavored tortilla chips we used made it a bit too spicy for the kids (combined with the Rotel tomatoes). I topped mine with sour cream to cancel some of the "heat." I did find some gaping holes in the recipe once I started making it. For example, were we supposed to use standard (10.75 ounce) or larger cans of mushroom soup? (I think 10.75 ounce cans were the right size.) Second, were we supposed to drain the tomatoes? I did not. How big of a bag of Doritos did you use? We had a jumbo bag and did not use all of it. A single-serving bag would be too small. What size was intended? Lastly, what size casserole dish would you suggest? I used a 9 x 13 glass casserole and had no problem. I used the single cup of cheese, but it was too sparse for my casserole size, so the cheese turned brown, as did the Doritos style chips that were not hidden under cheese. I would double or even triple the cheese for a casserole dish as big as mine. I will likely experiment with this recipe to see what works for us. For instance, I am curious to try it with cream cheese in place of mushroom soup. That sounds yummy! I will also add in a layer of beans (pinto or black beans) to add another dimension. I will not start with a layer of Doritos since my bottom layer came out as mush. Lastly, this is not a 2 serving recipe. This will serve 4-6 easily. This was not a "pretty" dish and was not multi-dimensional, but it has good potential.
Preheat oven to 350 degrees.
Bring to a boil the soup, water, and tomatoes.
Cook onion with ground beef.
Place layer of slightly crushed Doritos in the bottom of a casserole.
Add a layer of ground beef, a layer of soup mixture and a layer of Doritos.
Continue until all ingredients are used.
Top with cheese.
Bake in 350 degree oven for 25-30 minutes.
Serve and enjoy.
You can also add canned beans and cooked rice to this casserole!
If you can't get Rotel tomatoes, use a can of crushed, peeled tomatoes and add 1 tsp of seeded and minced jalapeno to them (or mild green chiles).