(Don't Eat The) Yellow Snowman Cookies
Marlene.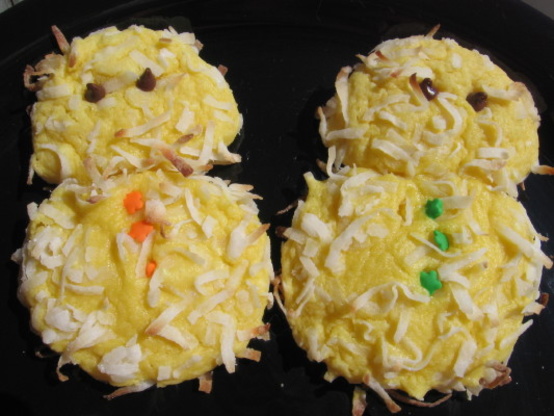 Everyone knows you shouldn't eat yellow snow, but kids and grownups alike will get a kick out of making an exception in this case. This is an original recipe, developed with love to celebrate the snow on my son's January birthday! Quick, easy and fun to make on a snowy day, lemon cake mix is a shortcut to tangy cookies that look as sweet as they taste. These snowmen will disappear even faster than the fellas outdoors!

These are great cookies. I saw the lemon cake mix with coconut, and knew it was for me.....and I am HAPPY! I just made normal sized cookies, and rolled them in the coconut, but didnt put them together for a snowman. THe are very sweet and have a crunchy, but soft texture. I will definetely make these again. THanks for sharing!
Cookie Ingredients

1

(18 1/2 ounce) box lemon cake mix
1⁄3 cup vegetable oil

2

large eggs

1

cup flaked coconut

Snowman Decorations

decorative candies, as desired for eyes and buttons
miniature chocolate chip, for eyes
any colorful tiny round candy sprinkles, for buttons
Heat oven to 350°F.
In large bowl, combine cake mix, oil and eggs; beat until well mixed.
Place coconut in shallow bowl.
For each cookie, use a cookie dough scoop to shape a 1-1/2-inch ball for the body, and a melon baller to shape a 1/2-inch ball for the head.
Roll each ball in coconut; place on ungreased cookie sheet with smaller ball touching larger ball.
Place cookies 1-1/2-inches apart.
Bake at 350° for 10-12 minutes or until coconut just begins to brown.
Immediately press eyes into head and buttons down the front of the snowman's body for each cookie.
Remove from cookie sheet to cool, taking care not to let the head separate from the body!