Doggie Birthday Cake for Dogs
ohevshalomel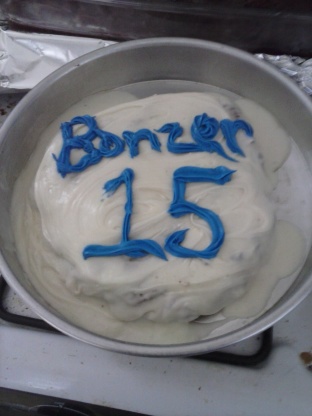 This is a great recipe for those canine friends and familly members to help celebrate a special occassion such as a birthday, Thanksgiving, Halloween, and any other holiday. It has only human-grade ingredients and is safe for people as well (it's not all that bad really).

Our dog, Boomer, turned 11 so we wanted to make him a cake. I chose this recipe because it had easily available ingredients that I didn't mind cooking with my dishes - no dogfood in my muffin tins thanks! They turned out great! I did make them muffin sized but otherwise followed the recipe exactly. Boomer LOVED them! It is amazing how he seemed to know we made them just for him! We called them his birthday "pupcakes". Thanks for the great recipe!
Preheat oven to 350 degrees F (175 degrees C).
Grease a 6 cup ring mold.
Combine the egg, peanut butter, oil, vanilla, and honey, if desired, in a large bowl; blend well.
Stir in the carrots and mix thoroughly.
Sift together the flour and baking soda and fold into the carrot mixture.
Spoon cake batter into prepared pan.
Bake in preheated oven for 40 minutes.
Let cake cool in pan for 10 minutes; then turn out onto a wire rack to cool completely.