pammyowl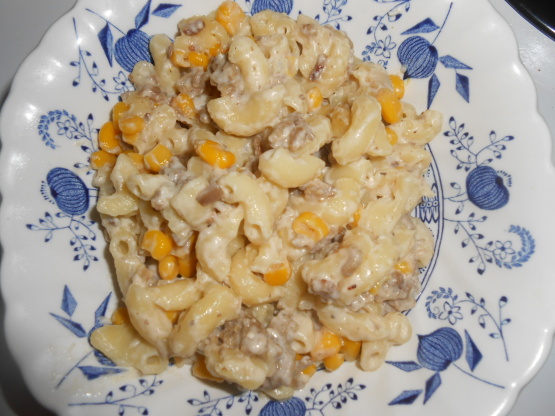 My friend Jana's mom used to make this when we were kids. I don't know why it's called Dobie Casserole but we loved it! I make it in one pot and it's quick and easy!

Homemade Hamburger Helper is a perfect description. This is a very good recipe for family night because it is easy and should please everyone. DH loved it with no additions while I needed a boost of salt, pepper and a dash or two of hot sauce. I used No Yolk noodles, hamburger style veggie crumbles, low fat mushroom soup and cream cheese along with peas (just because I like them better than corn). Thanks loof for a tasty comfort dinner :D
1

lb ground beef

16

ounces wide egg noodles

14

ounces canned corn, drained

8

ounces cream cheese

10

ounces cream of mushroom soup
1⁄4 cup milk
In a large Dutch oven or soup pot, brown the ground beef; drain and set aside.
In the same pot, boil the noodles as directed on the package; drain and set aside.
In the pot, melt the cream cheese and mushroom soup together with the milk until creamy.
Add beef, noodles, and corn and stir until well mixed.
Cook over low heat and stir until heated through.