Dj's Chicken & Portabella Mushrooms
lil sis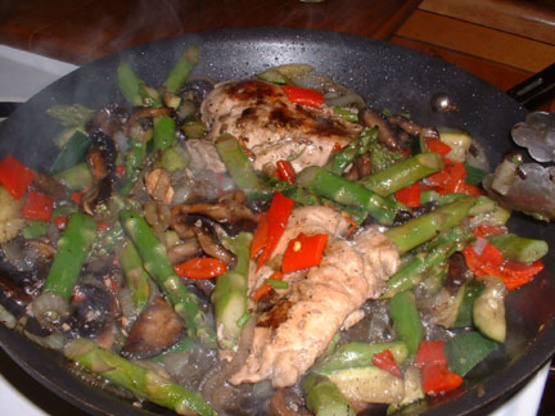 This recipe is so versatile! You can use 'any' vegetables you like! We used asparagus and zucchini this time, because that's what was in the fridge! Bell Peppers, broccoli, cauliflower, whatever you have handy will work, even change the roasted peppers at the end for tomatoes, romas work best, but any will do... :)

I'm giving this five stars because the recipe is great, even tho it didn't work out like I wanted for the Freezer Tag game. I cooked this to step five and then froze. I cooked from frozen in a large dutch oven, hoping for a "bertolli frozen dinner" sort of thing. It ended up being a little to watery so I added some pasta to offset. The flavor was really good, and I'm betting there's a better way to freeze or reheat from frozen. Mine just didn't work out exactly like I wanted.
Saute seasoned chicken breasts with minced garlic in olive oil approximately 1 minute.
Add portabello mushrooms next to chicken (not over or under).
Cover and saute 5 minutes.
Add onions and saute a few more minutes.
Add zucchini and asparagus, and more oil if necessary to keep simmering--don't let the vegetables dry out.
Cover and saute till done, 10-15 minutes.
Add optional roasted peppers, if desired, a few minutes before done.