KateL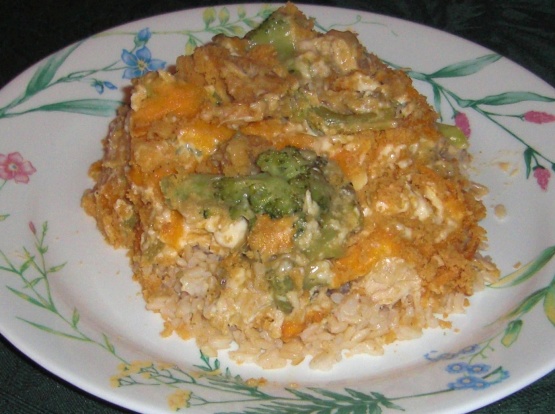 This is different than the other recipes as there is no curry, no rice, and no breadcrumbs or stuffing to mix with butter for the topping. It is our favorite way to have chicken divan.

Top Review by KateL
4 Stars, comfort food, the type Mom feeds the family, and looks are secondary. I served this over brown rice. We generally avoid mayonnaise, but it mixed in well with the condensed cream of chicken and condensed cream of celery soups. I kept the cheddar cheese to 2 cups, but would add more chicken next time. It took me much longer to bake, but my broccoli may not have been completely thawed and my oven may be calibrated incorrectly. Thanks, Nonnie, for posting this recipe. Made for PAC Fall 2008.
Preheat oven to 350º.
Spray 9x13 pan with cooking spray (PAM).
Spread thawed broccoli over bottom of pan.
Distribute cubed chicken over top of broccoli.
Mix cream soups (you can use any combination of flavors. I generally use a cream of broccoli and a cream of chicken), mayo and lemon juice until well blended.
Spread sauce over the chicken.
Sprinkle with cheese (I use closer to 4 cups than the original 2 the recipe called for).
Crush Ritz crackers (I leave the sleeve unopened and crush the crackers in the sleeve. This also gives you a handy way to pour out the crackers in the next step).
Distribute crushed crackers over the top of the cheese, covering well.
Place in oven and bake for approximately 30 minutes until bubbly.