Kayne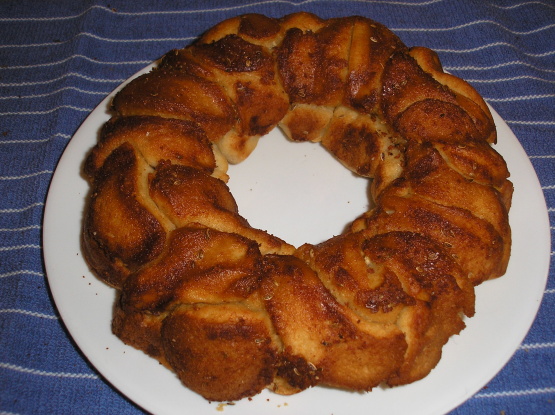 This is delicious. It is also fairly easy, and quick. I found it in a magazine, about 3 years ago, and have made it numerous times since.

Super simple to make! I thought I had made everything out of fridge biscuits too. I love how easy this was, and cheap to make. I did pour a little extra butter over the top after the were done. I used an angel food pan because it is all I have, at least until Santa delivers my new bundt pans! ;) Made and reviewed for Zaar Tag- Thanks! :)
Preheat oven to 350 degrees.
Grease 10" fluted tube pan.
Open each tube of biscuits and separate into 10 each.
Cut each biscuit in half.
In a small bowl, combine the remaining ingredients.
Slowly pour half of the mixture into the fluted tube pan.
Put half of the biscuits into the pan, pour remaining liquid over them, then top with remaining biscuits.
Bake for 30 - 35 minutes. Allow to cool before removing from pan (5 mins).
Serve warm.