Parsley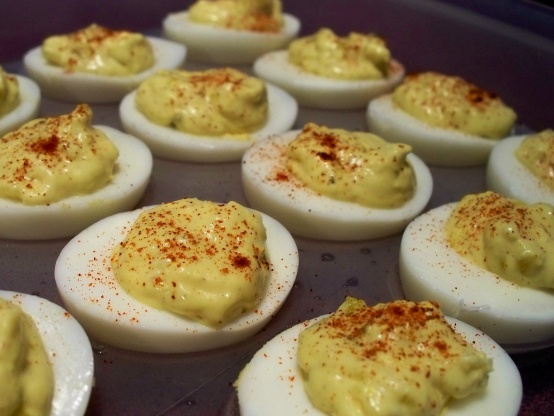 This is a very simple but wonderful deviled egg recipe that my mother use to make for me. This was always a favorite at barbecues and potlucks. Thank you for trying it. ENJOY!

while the minced onion (red) was great,,i would suggest that instead of 1 tablespoon of whole grain mustard,,,cut it in half,,,the full tablespoon was over powering,,,,,the picles where a graat ida,,,,thanks for posting
Peel and cut the eggs in two.
Place the yolks in a small bowl and set the whites aside.
Smash the yolks and whisk in the mayonnaise and mustard until smooth.
Add the onions and pickles and whisk until combined.
Spoon or pipe the yolk mixture into the egg whites and sprinkle with paprika.