Delicious Low Carb Cornbread
truebrit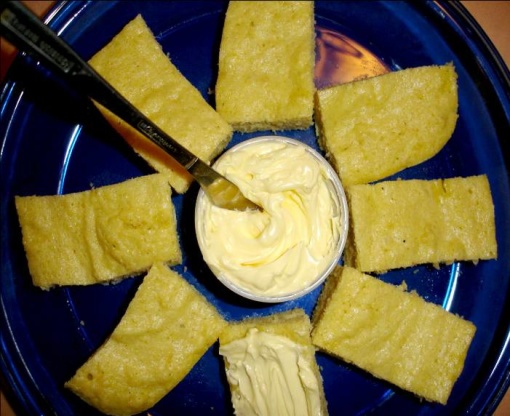 This is my very favorite low carb recipe! It's so easy to prepare, and it's done in only 2 minutes in the microwave. The best part is that it only amounts to 1 carb per slice!!! There isn't a trace of corn in the recipe, but try it; it really does taste like cornbread!

Top Review by jpeo30
I made this almond flour "cornbread" with about a 1/4 cup of corn off the cob (put in a food processor) and 2 packets of Splenda. I baked it at 350 for 18 minutes, put it in a greased 6" pan. It is cornbread. I know if added about 12 grams of carbs to the entire recipe...but if you want cornbread that is low carb..this is it.
3 1⁄2 ounces ground almonds or 3 1⁄2 ounces almond flour

1

ounce melted butter

2

large eggs
1⁄2 teaspoon baking powder
1⁄4 teaspoon salt
In a small bowl, mix wet ingredients, then work in the dry ingredients.
Pour into a greased microwave-safe container (about 6-inch square, or thereabouts).
Microwave for 2 minutes at power level 8.
Cut into 8 slices, about 1 carb per slice.
Serve with butter.