Deep Dark Chocolate Cheesecake
Prep 25 mins
Cook 1 hr 5 mins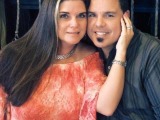 From Bon Appetit, October, 1996. A creamy, rich, and gorgeous dessert. What more could you want? Don't let the specific chocolate that Bon Appetit suggests scare you away from making the recipe. I use a 70% Cocoa Belgian chocolate that I get from Tuesday Morning (a discount store).
Directions
For crust:.
Preheat oven to 350°F
Butter 9-inch-diameter springform pan with 3-inch-high sides.
Blend cookies in processor until finely ground; blend in sugar.
Add melted butter and process until well blended.
Press crumbs evenly onto bottom (not sides) of prepared pan.
Bake just until set, about 5 minutes.
Cool while preparing filling.
Maintain oven temperature.
For filling:.
Stir chopped chocolate in metal bowl set over saucepan of simmering water until melted and smooth.
Remove bowl from over water; cool chocolate until lukewarm but still pourable.
Blend cream cheese, sugar, and cocoa powder in processor until smooth.
Blend in eggs 1 at a time.
Mix in lukewarm chocolate.
Pour filling over crust; smooth top.
Bake until center is just set and just appears dry, about 1 hour.
Cool 5 minutes.
Run knife around sides of cake to loosen. Chill overnight.
For topping:.
Stir cream, 6 ounces chocolate, and sugar in heavy medium saucepan over low heat until smooth.
Cool slightly.
Pour over center of cheesecake, spreading to within 1/2 inch of edge and filling any cracks.
Chill until topping is set, about 1 hour.
Do ahead: Can be made 3 days ahead.
Cover with foil and keep refrigerated.
Release pan sides.
Transfer cheesecake to platter.
Top with chocolate curls.
Let stand 2 hours at room temperature before serving.
***Cook time does not include chilling overnight and the 2 hours cheesecake needs to sit at room temperature before serving.
Most Helpful
This is seriously the best cheesecake I've ever made! It's a little rich but very hard to stop eating... I used semisweet chocolate and thus reduced the sugar that I added (by about 1/8 or so of a cup) and it worked great. I took what was leftover (not that there was a lack of will to eat it but more so that I wanted to see how it froze) and froze it and a month later, after defrosting it overnight in the fridge, it tasted just as good. I recommend this for all chocolate lovers out there!
Made this for Thanksgiving and everyone loved it. My husband said it was good enough to be served at the Cheesecake Factory. I made a few changes. First I couldn't find the chocolate listed in the recipe so I used Ghirardelli 60% Cacao Bittersweet Chips. I also used chocolate graham crackers to make the crust. The biggest change though was that I used 1/3 Less Fat Cream Cheese and Egg Beaters. I was worried about doing that but it turned out great. Not sure how much that reduced the calories and fat but I'm sure it was quite a bit.
I made cheesecake lollipops with this recipe and dipped them in dark chocolate, that want over so well that i won a baking contest. It was very time consuming but ohh so worth it.