Dark Chocolate-Mint Sorbet
Leb25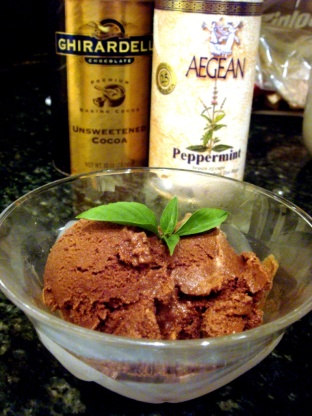 This treat is decadently rich, but also cool and refreshing. It is vegan, dairy-free, soy-free, gluten-free---great for people with allergies! I recommend making it a day ahead to allow enough chilling time. "Cooking time" is chilling time. Recipe from local cooking show, "Jayni's Kitchen."

Top Review by Leb25
yummy!! I just made this, it was sooo easy and it came out delicious...it had just the right amount of minty flavor, and def enough of a chocolatey taste! I didnt add the extract, and i was afraid it wouldnt be minty enough, but it definitely was. I used 1 cup of sugar and 1 cup of splenda...it came out fine =) I left it twirling in my ice cream maker for about an hour to get the best texture, and that was worth it! yayyy Thanks so much for this! I'll be making this a lot i think, haha
1182.95

ml water

6

peppermint tea bags

473.18

ml sugar

236.59

ml cocoa powder

0.25

ml sea salt

2.46

ml peppermint extract (optional ( for extra minty flavor) (optional)
Boil the water in a large pot. Steep the tea bags for 5 minutes. Remove them.
Stir in the sugar, cocoa, and salt. Simmer the mixture over medium heat about two minutes or until all ingredients are dissolved. Add the peppermint extract.
Remove from heat and allow to cool completely. Pour mixture into airtight container and refrigerate until completely chilled.
Freeze in an ice cream maker according to manufacturer's directions.
If sorbet is still too liquidy, freeze in an airtight container for a few hours.
If sorbet becomes too hard in the freezer, crush it up and stir it with a fork.