Dad's Chocolate Cream Pie and Variations
Elmotoo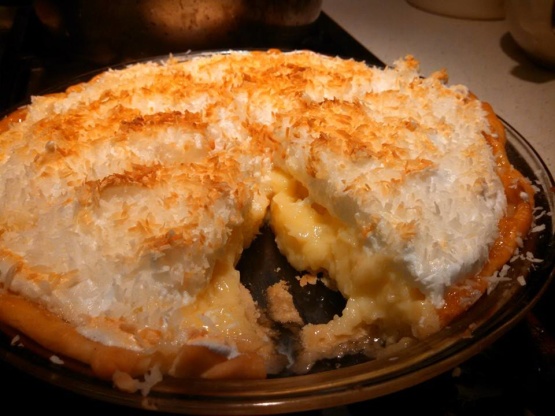 This is by far one of the best chocolate pies - I have searched and the difference is the unsweetened chocolate vs. cocoa. Also, it can be changed to butterscotch, caramel, coconut...(variations at end of directions)

Very good! I made the coconut version. Only to discover that i am out of the coconut called for. so, i added back the other 1/3c sugar & added my natural dessicated, unsweetened coconut to the scalded milk so it would have more time to rehydrate. I think even with the unsweetened coconut, 2/3c sugar would be enough. Made for Variety is the Spice of Life event 5/14.
1⁄4 cup cornstarch

1

cup sugar
1⁄4 teaspoon salt

2

cups milk, scalded

2

ounces unsweetened chocolate

3

slightly beaten egg yolks

2

tablespoons butter
1⁄2 teaspoon vanilla

1

(9 inch) baked pie crusts

3

stiffly beaten egg whites

6

tablespoons sugar
MIx cornstarch, 1 cup sugar and salt.
Melt unsweetened chocolate in scalded milk.
Gradually add milk.
Cook in double boiler till thick, about 10 minutes, stirring constantly.
Slowly add small amount of hot mixture to egg yolks.
Stir into remaining hot mixture.
Cook 5 minutes.
Cool.
Add butter and vanilla.
Pour into shell and spread with meringue made out of whites and 6 Tablespoons sugar.
Bake at 350° for 12-15 minutes.
** For Butterscotch: Omit chocolate. Substitute brown sugar for white sugar and increase butter to 3 tablespoons.
** For Caramel: Omit chocolate. Decrease sugar to 2/3 cup and caramelize 1/4 cup of sugar and add to scalded milk.
*** For Coconut: Omit Chocolate. Decrease sugar to 2/3 cup. Add 1 cup moist, shredded coconut to filling. Sprinkle 1/2 cup coconut on meringue before browning.