We love a good pasty and this is a recipe I've developed to highlight the best of the flavors. We love butter pastry over lard or shortening, so this recipe uses a butter pastry crust recipe originally from Gourmet magazine. Prep time does not include one hour to chill pastry dough. There will be filling left over that I like to bake in a separate dish (covered!) for the little one. Enjoy!
Directions
Make dough:.
Mix flour and salt in a large bowl and cut in butter.
Add ice water, 1 tablespoon at a time, tossing with a fork until incorporated.
Knead until well blended.
Form into four balls and chill for 1 hour or more covered in plastic wrap.
Remove pastry from fridge 30 minutes prior to rolling it out.
Make Filling:.
Preheat oven to 400 degrees.
Mix all ingredients together in large bowl.
Let flavors marry while rolling out dough.
Dust flat surface with flour and roll out dough into circles 1/8" thick.
Place large cupful of filling onto center of each dough circle.
Pull top over and, using fingertips, dot edges with water.
Seal edges together and then fold over on itself to form a double seal.
Cook in preheated oven for 50-60 minutes.
Reviews
Most Helpful
WE LOVE PASTIES!!! I make them like this quite often, but I use a different crust & sometimes I add a little chopped cabbage...(tried using sauerkraut one time but that was AWFUL!!!) Gotta have LOTS of rutabaga...YUM!!! THANKS for sharing!!!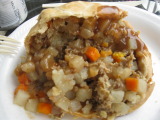 THe butter crust was delicious. We use half Italian sausage, half hamburger, red onion and Yukon Gold potatoes. We also cut down the amount of salt in the feeling. Besides that these are some of my best parties ever!