gailanng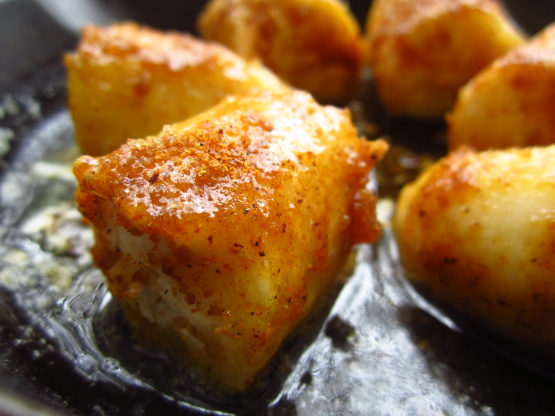 I don't recall where I got this recipe. It is a favorite in my home plus I make it for my consumers (at work) with very ripe bananas and no sugar so it's okay for the diabetics. All the amounts are varied depending on what you have and what you want. Use green bananas for a more savory side dish. Or use greener bananas and more brown sugar for a sweet treat. Very ripe bananas don't need much cooking nor much brown sugar. This is good as a side dish, over ice cream, on pancakes, under whipped cream, with basmati rice, let your imagination wander....enjoy! You could even vary the size of banana pieces to suit your recipe.

Top Review by Debbwl
Incredibly Yummy!! The curry, butter and brown sugar created an incredible glaze that was the perfect balance to the rich creamy banana. Mine turned out having a crisp dark gold exterior that when cut into revealed a beautiful creamy interior. I used real butter and bananas that had just turned yellow, rip but not too ripe. Made a great side to the crispy veggies of an Asian flavored meal, I am already looking forward to trying cookgir's suggestion of serving for breakfast with yogurt and maybe a little sprinkled coconut. This is going straight into my best of 2013 book, thanks so very much for the post.
In heavy skillet, such as cast iron, melt butter over medium to medium high heat.
Add bananas cut or broken into 2" pieces.
Cook 2 to 4 minutes.
Carefully turn.
Sprinkle with brown sugar and curry powder.
Cook 2 to 4 minutes.
The bananas should be soft and warmed through, and there should be a sauce in the bottom.
**Don't overcrowd the pan; you need to be able to turn the banana pieces without mashing them.**.