Cucumber Dill Pasta Salad
Linajjac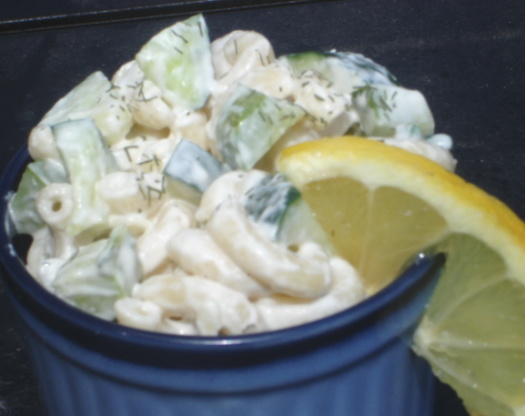 There are lots of pasta salad recipes here but I don't see this particular variation. I love dill in most anything and combined with cucumbers and pasta, it's tart/creamy comfort food to me. For even more color & crunch, radishes could be added for another twist. You may need to adjust the mayo and sour cream amounts - I don't really measure it so I've guessed. I start with a large dollop of each then add till I get the texture and taste that I want. Update: Thanks to the first reviewer for finding my typo with the salt; it has been corrected.

I loved the flavor here, but the weepy cukes made me eww. I swapped them out for thawed peas and diced celery the second time and we have a winner!
Cook shells per package directions. Drain and rinse with cold water. Drain again.
In large bowl combine pasta with green onions and cucumbers.
In another bowl, blend together dressing ingredients, adding more or less of ingredients to get the right taste for you.
Toss dressing with pasta and refrigerate. Serve cold.
Note: If refrigerated for long, the cucumbers will "weep" and make the salad less than appealing. Plan to eat this within 2 hours of making.