Saturn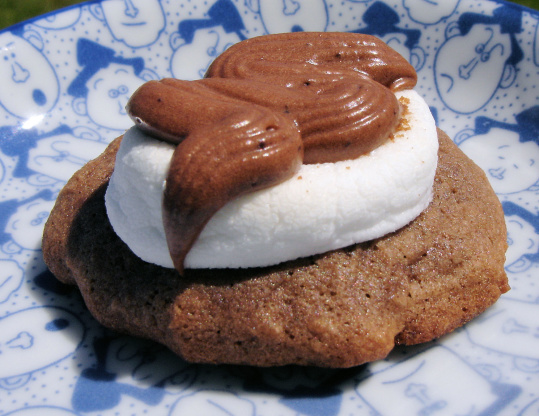 These are VERY GOOD! Posted in response to a request, I just couldn't post it without trying them first. Very fudgy and delicious. **cook time is total oven time per pan** **does not include time for putting marshmallows on top of cookies**

Top Review by Saturn
The kids really enjoyed these! The adults however felt that the base cookie was a bit lacking in flavour. The marshmallow and icing were perfect though! I think I will take the idea of the marshmallow and the recipe for the icing and put it on a different cookie base. The only thing I changed was to sub in 1/2 cup of whole wheat flour instead of all white. These look lovely on a tray as well. Your directions are GREAT! I loved having your comments through out it. It helped me not get worried when I added the milk. Thanks!
Preheat oven to 350*.
COOKIES:.
Cream shortening and sugar.
Add eggs, mixing well.
Stir in milk.
(is going to be VERY RUNNY, careful!:).
Add soda, salt, vanilla, cocoa, and flour.
Mix well.
**just a heads up** This dough is VERY SOFT.
Almost sticky even.
But I didn't add more flour, I left the recipe as it was.
Drop slightly heaping teaspoonfuls onto a sprayed cookie sheet.
(I did 12 to a sheet and they didn't spread out and touch each other).
Bake for 6 minutes.
Take out of the oven and top each cookie with 1 marshmallow half, cut side down.
Return to oven, bake an additional 3 minutes.
***Ifyou wanted to add a walnut half, I would do it at this point, stick it right into the soft marshmallow***.
Marshmallow will be puffy, but will fall a bit after being out of the oven awhile.
Cool on cookie sheet for 1 minute before removing to cookie rack to finish cooling.
FROSTING:.
Mix all ingredients well.
Take a small spoon, a teaspoon would be plenty, scoop up some frosting and drizzle over cookies.
The recipe says to spread cookies with frosting.
NO WAY!
It rips the marshmallow all up and looks awful.
So, I added a bit more milk than the original recipe called for, to make the frosting more like a glaze so it would look nicer.