KateL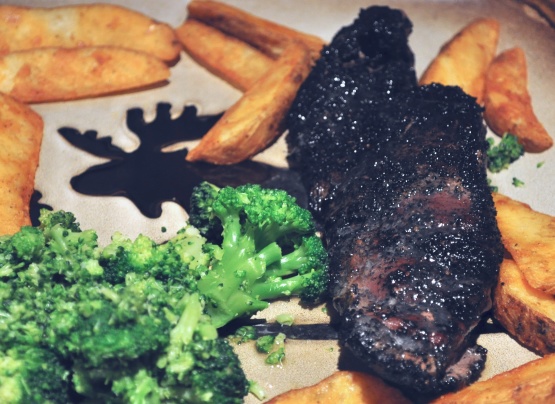 Probably the most unusual and flavorful steak you've had.

Top Review by KateL
Manly meal, rated 5 stars by DH, and 4 stars by me. This is a variation on classic pepper crusted filet mignon with a cognac or brandy sauce. The coffee-pepper mixture provided a surface barrier to keep the venison tenderloin moist but was not as intense as crushed peppercorn alone. The tamarind juice adds a slight fruity finish; I personally prefer brandy or cognac but DH was delighted. The cooking times were accurate; you do not want venison cooked past medium! So, if it were me, I would dispense with the tamarind juice and add brandy to the pan while the cooked meat was resting, reducing it to a glaze. Made for 2013 My Three Chefs.
Mix the coffee and ground pepper together on a saucer.
Dredge the meat in the mixture on both sides.
Sear the meat for about 4 minutes per side in an oiled skillet.
Remove from the heat and let it rest for 5 minutes.
Add a small quantity of the salt and a splash of the juice to each bite. The combination of the salt and the citrus-sour of the tamarind, together with the coffee crust, makes a very flavorful dish.