Crusted Asparagus (Uberkrustete Spargel)
awalde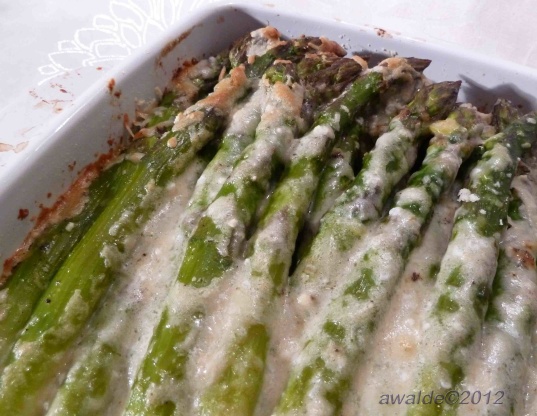 AWESOME asparagus dish that I make often! This is a German dish I found at a world wide recipes site several months ago.

Top Review by awalde
This was delicous. Mine turned golden after 15 minutes (I'm using convection oven).
They were still lightly hard, but not too much.
For those who need more browned one: simply increase time.
Fro those who prefere softer ones: cover with a tin foil and bake some more minutes.
Thanks a lot for sharing this recipe.
Place the cooked asparagus in a buttered baking dish.
Dot with butter and sprinkle with the cheese.
Add the cream and season with salt and pepper.
Bake in a preheated 450F (230C) oven 10 to 15 minutes, until the topping is golden brown.