Crunchy Baked Spiced Chicken
ImPat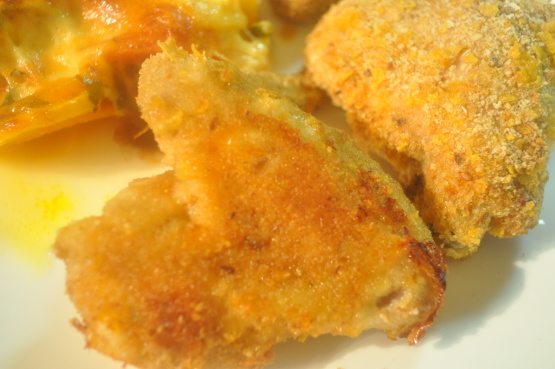 This is a tasty low-fat way to serve chicken & a great way to use up some stale cornflakes. I think this is an old Kelloggs recipe. I made this using chicken ribs but omitted the first step & it still worked out fine so you can leave it too if you like!

Top Review by ImPat
I bought a mixed 1.2K tray of chicken pieces and got 5 thighes, 1 drumstick and 2 wings (all bone in) and removed skin (from thighes and drumstick) and excess fat but only used 1 cup of breadcrumbs (dried but would cut this back to about 3/4) and 1/3 cup of crushed corn flakes and half the spices), the timing for baking was perfect but I think I would put the meat side down in the pan as that browned so nicely where as the top was rather pale but the meat was juicy tender and the spices added a nice flavour and the corn flakes added a really nice crunch that I hadn't expected. Thank you **Mandy**
Remove skin from and place chicken in a large pan of cold water, bring to the boil; drain. Pat dry with absorbent paper.
Toss chicken in flour and shake away excess.
Combine crumbs and spices; mix well.
Dip chicken in egg whites and then in crumb mixture and place on a greased oven tray. Refrigerate for approx 1 hour.
Coat chicken lightly with oil spray and bake uncovered at 180°C for approx 30 minutes or until tender.