Croquetas De Jaibas, Estilo Ybor (Ybor City's Deviled Crabs)
Nimz1466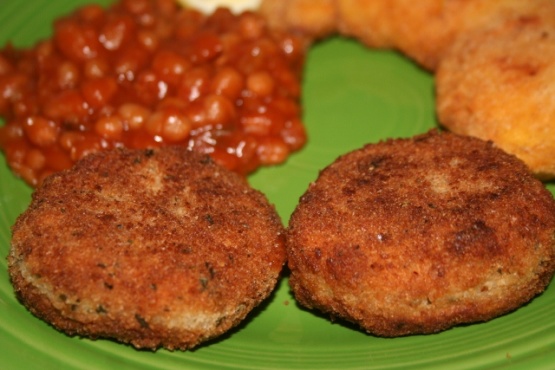 I grew up in Tampa, Florida and one of my favorite things to do for lunch was find a place for a Cuban sandwich and a devil(ed) crab. That with some hot sauce and a Pepsi to wash it down ....... mmmm, that's the good stuff. I found this recipe on the net and verified it with the author, Ms. Lillian Mount. Thank you Ms. Mount!

This is an excellent recipe for deviled crabs and easy enough for a beginner to make. Although time consuming, the recipe was simple and the results delicious. Being a native Tampan that has moved away, I've been craving deviled crabs for a long time. I made about a quarter of the original recipe because I'm the only one in my household that eats these. I wasn't able to fry them the same day I made them and they still turned out great after sitting in the refrigerator for a day or two. The inside of the croquette was exactly what I expected, but the outside texture was a little different than a traditional deviled crab. The dough was really easy to handle but getting the shape right probably takes a bit of practice. Now if only I could get my hands on some cuban bread to make the coveted cuban sandwich to pair these with! All in all a wonderful recipe and I thank you for posting!
Dough Recipe: The dough must be prepared and refrigerated, preferably overnight. Remove crust from bread; soak in water for 1/2 hour. Drain and squeeze thoroughly. Add paprika and salt. Add the bread crumbs and work to form a dough, place in refrigerator to chill thoroughly.
Crab Meat Filling: Heat the olive oil in a skillet. Saute the onion and green pepper until transparent. Add the garlic and saute all until soft.Combine salt, hot sauce, sugar, bay leaf, parsley, tomato sauce and the nutmeg. Add to saute and mix well. Cover and simmer for 1/2 hr (add water if needed during cooking time). Add the crab meat and sherry. Mix well and cook covered another 10 minute Cool and refrigerate.
Preparation of the Croquettes: Remove dough and filling from refrigerator.Take 2 generous tablespoons Of dough in palm of your left hand. Indent with the back of a spoon in the center enough to fill with a tablespoons Of crab meat filling. Work dough around filling to form a croquette.
Prepare a mixture of 2 eggs, 2 tablespoons Of water, salt and pepper and beat. vigorously. In a bowl, combine 1 cup of seasoned bread crumbs with 1/2 cup of all purpose flour. Mix well. Dip croquettes first in the egg mixture, then roll in the crumb flour mixture to coat well. Place croquettes side by side in a shallow dish. Cover with Saran Wrap or foil and refrigerate at least 1 hour before frying in deep fat.(Make sure you have lots of your favorite red pepper sauce available to pour onto them, it makes them even more delicious.).