Bev I Am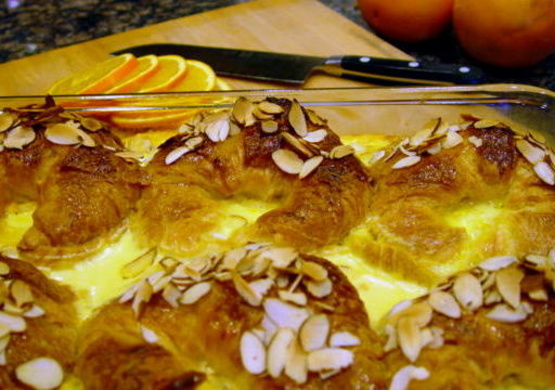 I found this recipe in a holiday magazine a couple of years ago and it's become a family favorite ever since. It's sort of like a fancy bread pudding, yet not quite, so I hesitate to really term it a bread pudding because in this case the croissants don't dissolve into the other ingredients like a normal bread pudding would, so the texture is much different. The orange flavor gives it a wonderful taste too.

Steve, I had to let you know I prepared this for Christmas breakfast and I know it will become our new traditional Christmas breakfast! It was so elegant and delicious! Everyone was so impressed that I had prepared something this wonderful in so little time....of course I never let on that I had prepared it the night before ; ) Just our secret. Thanks so much for your submission. I know this one will stay in my holiday cookbook for years to come! ~~ Just an update (12/25/2005) - and a continued tradition! This year, I basted the croissants the following AM with the excess marmalade which worked beautifully and also I added a few slivered almonds as a crownng glory : ) My family raved over their Christmas breakast feast. Thanks again, Steve, for bringing this wonderful recipe here to share.
Spray two 3-quart glass baking dishes with non-stick pan spray.
Or grease baking dishes with butter.
Cut croissants lengthwise with bottom being about 2/3 and top sliver 1/3 and arrange six in each baking dish.
Thin marmalade with orange juice and spoon some over each bottom half of croissant.
Replace croissant tops.
Beat eggs, cream, extract and rind.
Pour over croissants.
Spoon remaining thinned marmalade on top as a glaze.
Allow to soak overnight.
Bake at 350°F for 45 minutes or until firm.
Serve hot, garnished with orange slices and strawberries.
May also be topped with a spoonful of whipped cream.
Note: I can easily buy croissants in the bakery section of my supermarket (Sara Lee brand also has a frozen variety). However, I found that the ones I get are very large so I have to cut them to fit in a baking dish and may not get all 6 in (usually use 13 x 9 inch glass pans), but it will work fine as long as you fill the pan even if you need to use less than 6 croissants, Also if I'm taking these to a friends house I will use those throw away aluminum baking tins.