Crock Pot Potluck Pierogies With Sauteed Onions and Butter
Lainey39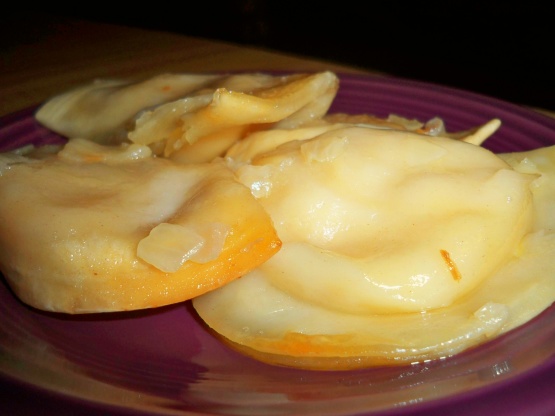 Great idea for a football party, graduation party, any potluck get-together. I was assigned a hot side dish for a potluck work luncheon, served aside of hot dogs and other party appy's, and decided to try this out in the crockpot and it worked. It went over well; many people went back for seconds and came looking for the leftovers the next day.....it was the only dish that was gone! Very simple indeed, but it's one of those dishes that you hardly lift a finger yet it goes a long way. Would go great aside of hamburger BBQ, sausage sandwiches, bratwurst, hamburgers, etc or make as a main dish. Perfect if you don't have an oven or have limited oven space for your party cooking. I have figured on 16 servings/3 pierogies per person and prep time includes sautee of onion and butter.

This is a great recipe,but to make it absolutely sinfully delicious once a year, fry your onions with cut up bacon and when done add 1 quart of whipping cream to the pan. Heat up and then poor over your 3lbs of perogies in the slow cooker. Cook on high for 3 hrs. Amazing and yes a heart attack awaiting to happen, but it's only once a year so enjoy the two perogies you will have!
48

pierogies (I buy Mrs. T's, 48 pierogies will fill up a 5 qt crockpot)

16

tablespoons unsalted butter (1 cup)

1

large white onion, chopped
salt, to taste
pepper, to taste
Place frozen pierogies in the crockpot.
In a medium saucepan, melt butter and fry onion on medium-low heat, until onion is golden brown.
Pour onion and butter over pierogies; add salt and pepper.
Cook, on high, for 3 hours.
A few times during cooking, use tongs and gently re-arrange pierogies and ladle butter sauce to cover pierogies on top.
Turn to low or keep warm once pierogies are cooked and/or butter sauce begins to bubble.