Crock Pot Italian Sausage Dinner
Bergy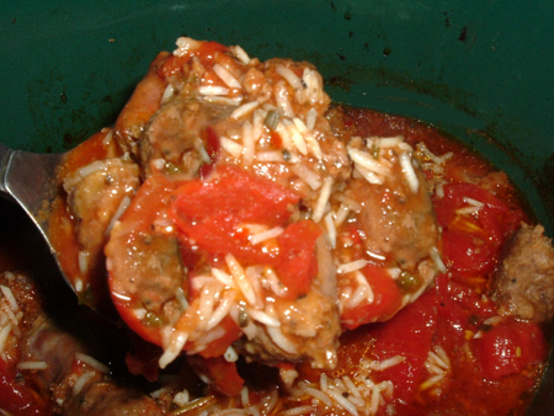 This is one of my mom's recipes when she wanted to change things from just meat and potatoes all the time. I have adjusted this recipe after additional review.

Top Review by Bergy
Your Mom's recipe is delicious, easy to make and a crock pot recipe is always good in hot or cold weather. The aroma is wonderful. I bought my Sausages from a butcher shop that I had not tried before and they were quite fatty-My advise is to know your sausage. I had to remove the fat with one of those defatting gizmos (not the fault of the recipe). All was well again. I found that 6 hours on low was fine. I used basmati rice (not instant or minute rice) that I had soaked all day in water. Added it and the tomatoes to cook for a final hour. The basmati soaked up the liquid and had a lovely flavor. Next time I may leave the sausages whole and cook the rice separately serving it with the lovely sauce & sausages over it. Either way it is a very easy tasty recipe thanks Bippie for posting it
Place water, sausage and green onions in crock pot.
Add steak sauce, red pepper flakes, Italian seasoning and salt.
Cover with lid and cook on low for 6-8 hours or on high for 3 hours.
Stir in uncooked rice and tomatoes with juice.
Cover and cook an additional 1 hour.