Crispy Cajun Chickpea Cakes (Vegan)
rpgaymer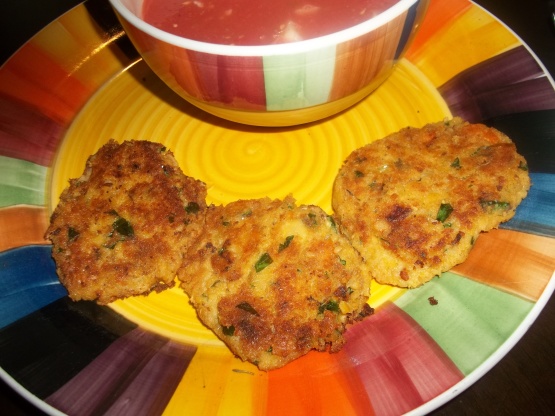 I thought this recipe was not only easy to make, it was fantastic. I made it for my lunch today. It is from the VeganDadblogspot.com. While the chickpea cakes were good on their own, I thought they were even better with Spicy Red Pepper Sauce (not vegan) dolloped on top. A remoulade sauce would also probably be very good. Vegan Dad said he made these mild in order to be kid friendly. I increased the cayenne (several pinches) and I used a couple teaspoons of hot sauce. Do what suits your tastes. He served for dinner along with a rice dish. Vegan Dad also says if you have trouble forming the patties (I didn't), add some more cornstarch to hold it all together. Mine held their shape throughout the frying. Prep time includes 30 minute chill time.
I love vegan patty-like things, and these were one of the best. Great Cajun flavors. Instead of adding bell pepper, I diced a small carrot and a serrano pepper and used that instead. I did not have trouble making this like the other reviewers- my batter was like mashed potatoes and was very easy to work with. I also did not think the patties were dry at all; in fact, I made a couple of sauces to serve these with and barely used them because the flavor of the chickpea cakes were great as is. Thanks for sharing!
Heat oil in a frying pan over medium heat. Saute onion, green pepper, and celery for 5-7 mins, until softened. Remove from heat.
Place chickpeas in a food processor along with the onion mixture. Pulse until chickpeas are no longer whole, but don't process them too much. Place chickpeas in a bowl and add spices, hot sauce, and parsley. Mix well. Add flour and cornstarch and mix well. Place in the fridge for 30 minutes.
Heat oil in a frying pan over med/med-hi heat (around 350 degrees). Shape chickpea mixture into 12 patties and fry in batches, about 2-3 mins per side, or until crispy and browned. Flip a few times if they are browning too quickly.