Crescent-topped Casserole
Leslie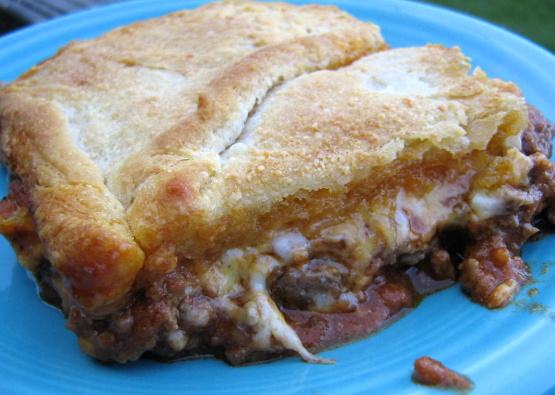 I found this in Taste of Home's Casserole Cookbook, and it's delicious!!! The beef mixture and crescent roll topping make for a real hearty meal!

We all enjoyed this Casserole tonight! Not to spicy! Loved the crescent rolls on top with the butter and cheese. Browned nicely and the taste of the browned cheesy crust was so delicious! Thanks so much ; )
In a large skillet, cook beef and onion until meat loses its pinkness; drain.
Stir in tomato sauce and spaghetti sauce mix, then reduce heat.
Simmer, uncovered, for 5 minutes; remove from the heat.
Stir in sour cream, and spoon mixture into a greased 13" x 9" x 2" baking dish.
Sprinkle with mozzarella cheese.
Unroll the crescent roll dough into one rectangle, and seal seams and perforations.
Place over the cheese.
Brush with butter and sprinkle with Parmesan cheese.
Bake, uncovered at 375F for about 25 minutes, or until golden brown.