Crescent Sopaipilla / Sopapilla Cheesecake
Prep 30 mins
Cook 30 mins
These sweeties puff like sopapillas and are great for breakfast or as a change from coffeecake! Cinnamon sugar can be made by combining 1 cup sugar to 2 TBS cinnamon.
2 (8 ounce) packages cream cheese
2 (8 ounce) packages refrigerated crescent dinner rolls
1 cup sugar
1 teaspoon vanilla extract or 1 teaspoon almond extract
1⁄2 cup cinnamon sugar
Directions
Using a 9 x 13 baking pan, unroll one package of refrigerated crescent rolls and line the bottom of the pan.
Flatten.
Mix together the cream cheese, sugar and extract.
Spread over the crescent rolls.
Unroll the other can of crescent rolls and place on top of cream cheese mixture.
Pour one stick of melted butter or margarine over the top and sprinkle with about 1/2 cup of the cinnamon sugar mixture.
Bake at 350 degrees for 30 minutes.
Reviews
Most Helpful
I made these for my picky daughter who usu loves sopapillas. She didn't like them at all--they "had no honey and tasted like cheesecake" (which she doesn't like-the skinny wench!)...HOWEVER, my husband and son devoured the whole pan in less than 24 hours! I used reduced fat products and will probably reduce the amount of butter next time. So if you are looking for a true Tex-mex sopapilla, look on...BUT if you are looking for a quick, easy, super gooey cheese-cinnamony filled treat, try this-- you won't be disappointed. Thanks for posting!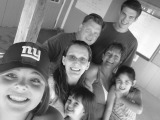 I had this at a teacher Christmas party a few years ago and have made it many times since then. Rich and delicious! I let it cool a little before serving or all the filling will run.

tasty and supersweet. i added 1/4 cup sour cream to the cream cheese to make it a bit less sweet and it worked well. lemon zest might also be a nice addition.