-Sylvie-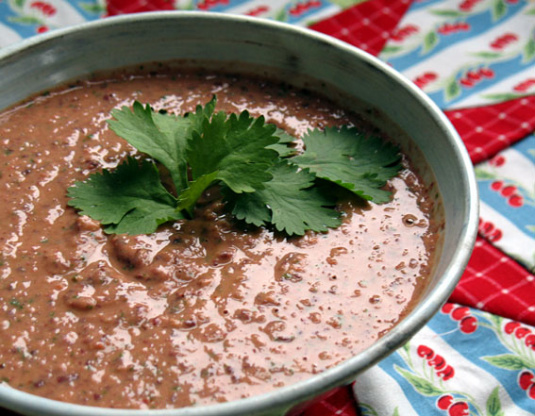 Creamy, spicy and full of flavour. I first tried this recipe at a friends Bbq and had to get the recipe for myself. I plan on making this quite a few times this summer!

I saw this recipe and thought I would love it, as I like all the ingredients and it seemed easy enough to make. I'm sorry to say though that I found the taste of the red wine vinegar a little overpowering and otherwise I found the salsa a little bland. I added some salt, freshly ground pepper, a clove of garlic and about 1/2 tsp of hot chilli powder, bt I think it still needs tweaking a little more to make it suit my taste buds. Thanks for sharing.
1

(19 ounce) can red beans

1

red pepper, coarsely chopped

1

small red onion, coarsely chopped

2

tablespoons parsley, chopped

2

tablespoons coriander, chopped

1

tablespoon jalapeno pepper, coarsely chopped
1⁄4 cup olive oil
1⁄4 cup red wine vinegar

2

tablespoons mayonnaise
Puree all the ingredients in a food processor or blender and pour into a serving bowl.
Chill for at least 30 minutes.