Creamy Ham and Asparagus Tagliatelle
lazyme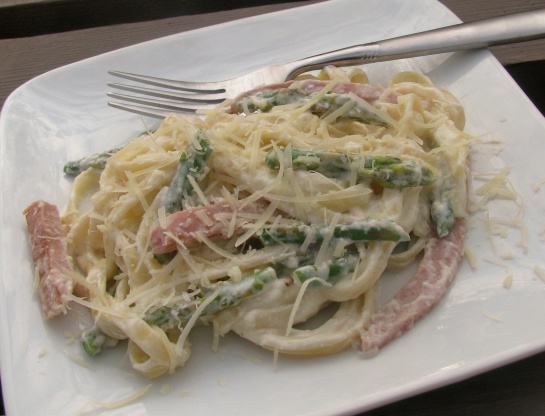 This is an indulgent dish but one that's perfect for using fresh asparagus.
Cook the asparagus in boiling water until just tender.
Drain, setting aside some of the cooking water.
Cool and slice on the diagonal.
Heat the butter and olive oil in a frying pan, before adding the onion.
Sauté until soft and then add the ham, cooking for a further minute.
Add the asparagus and a ladle full of the cooking water.
Simmer until most of the water has evaporated.
Set aside while cooking the pasta in a separate pot, until al dente.
When the pasta is nearly ready, reheat the sauce and add the cream, parsley, salt and pepper.
Simmer for five minutes or until reduced by half.
Drain the pasta and toss with the sauce.
Sprinkle parmesan on top.