Creamy Cheesy Coquilles St. Jacques/ Scallops
Boomette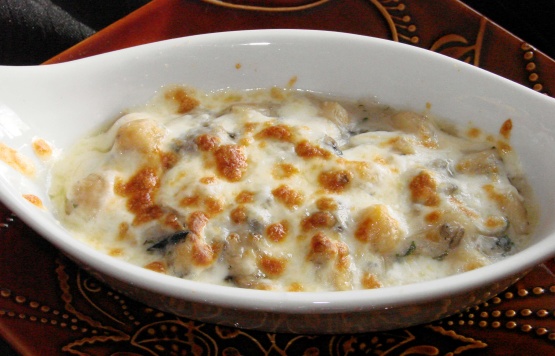 I don't recall where I got this excellent recipe, but have been making it for special occasions for 25 years! Easy to put together, and very elegant served with rice pilaf and a green salad for company. I like to serve this in prepared scallop shells.

Top Review by daduk
I made this dish for dinner last night and it was absolutely delish! What a nice presentation this dish makes and the taste is over the top. The only changes I made was to use 1 lb sea scallops and 1 lb large shrimp. I sauteed the scallops first in a pan for 1 1/2 minute each side and did the same to the shrimp. Since the seafood continues to cook once you add to the sauce, there is no need to cook any longer. Seafood cooks quickly and if you cook it too long it becomes tough. Will definitely make again and davianng thanks for the delicious recipe.
Lightly grease or butter 8 large scallop shells or 8 small ramekins.
Combine 1 t. lemon juice, water and salt in a saucepan large enough to hold scallops. Bring to a boil.
Add scallops and simmer 6 minutes. Drain. Set aside.
Melt 4 T. butter in saute pan. Add onions and mushrooms. Saute until wilted and soft.
Whisk in flour and pepper. Cook 30 seconds.
Whisk in cream and milk. Bring to boil, whisking constantly, until thickened.
Add cheese, wine, 1 T. lemon juice and parsley. Whisk and cook until blended and cheese has melted. Add scallops.
Divide mixture into 8 shells or ramekins.
Combine bread crumbs and 2 T. melted butter. Sprinkle on scallop mixture.
Broil 4" from heat for 2-3 minutes, or until crumbs are brown and sizzling.