Parsley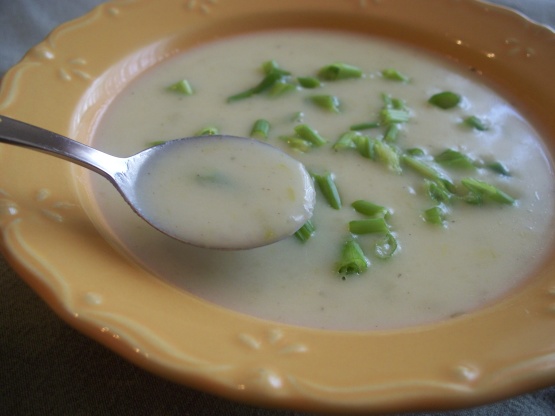 A delicious blend of chicken stock, potato and scallions from your garden!

This soup differs from other potato soups because of the lemon. I liked it, the picky one did not. So you might want to consider adding the lemon individually to serving bowls, if you think you may have a similar situation. Easy to make, and the ingredients are always handy.
2

tablespoons butter

1

small onion, chopped

5

ounces scallions, white parts only, chopped

8

ounces potatoes, peeled and chopped
2 1⁄2 cups homemade chicken stock
1 1⁄2 cups light cream
salt & freshly ground black pepper, to taste

2

tablespoons lemon juice
chopped scallion, for garnish
Melt the butter in a saucepan and add the onions.
Cover and cook over a very low heat 10 minutes, or until onions are soft.
Add the potatoes and the chicken stock.
bring to a boil, cover nd simmer over a medium low heat 30 minutes.
Cool soup slightly and purée in a blender or food processor.
Return soup to saucepan and add the cream and season with salt and freshly ground black pepper to suit your taste; reheat soup gently and stir frequently.
Stir in the lemon juice.
Serve each bowl garnished with freshly chopped scallions from your garden.