CrystalA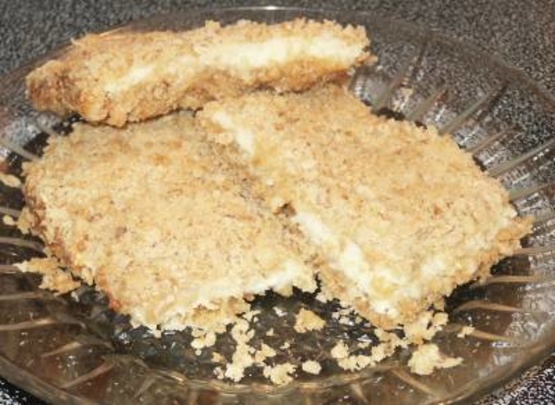 I found this in a local newspaper. I tried it out on a night when my teenage daughters had a house full of friends over for a movie. I managed to grab a piece before the dish was grabbed and the bars inhaled. Delicious!

Okay, this was just divine! I love anything sour, including lemons. If someone says "Go suck a lemon," I take them seriously! :-) The crusts were fairly easy to make, even though I've only made a few. I guess that shows I'm getting better. (Pretty soon I'll be a professional! ;-) LOL!) There was no lemon peel in the fridge, so I used lime peel, which gave it a speckled look, but it still tasted fine. I cut it into bars about one inch square, because it was so rich. (Mmmmmmmm!) Thanks, Mirj!
Heat oven to 375°F.
Grease 9 x 9-inch square pan.
Mix milk, lemon peel and lemon juice until thickened.
Reserve.
Mix remaining ingredients until crumbly.
Press half of the crumbly mixture in pan.
Bake about 10 minutes or until set.
Spread milk mixture over baked layer.
Sprinkle remaining crumbly mixture on milk mixture.
Press gently into milk mixture.
Bake about 20 minutes or until edge is golden brown and center is set but soft.
Cool completely.